Flexible Least-Squares Solution Software: LSQ
The LSQ application is a free (as in beer) software tool to solve arbitrary overdetermined linear and nonlinear equation systems. If there is some interest in this application, I might release the source code (C#) at a later time.
Features
Math equation parser
Supports linear and nonlinear systems
Outlier detection with normalized residuals and global t-test
L2 (best linear unbiased estimator) and robust BIBER method (Wicki, 1998)
Get LSQ for Windows (457 KB)
Documentation
Link to documentation (PDF) with a small example adjustment process:
LSQ.pdf
Screenshots (click to enlarge)
Lynx - Multiplayer Zombie Shooter
Lynx is my latest and completely self written C++ 3D engine. I've started this project in 2007 and I am still happy with the codebase. In 2009 I've uploaded the source code to Google Code as open source software (GNU General Public License v2).
Features
Multiplatform support (Windows, Mac OS X, Linux)
OpenGL 2.0
Shadow mapping, per-pixel lighting
Lag tolerant multiplayer with cubic movement interpolation
Dedicated server
Blender as a map editor + custom bsp compiler
Did I mention zombies?
Get from Google Code (source code only)
Screenshots (click to enlarge)
Vim color scheme: Blueshift
Ray of Light - Multiprocessor realtime raytracer
Writting a ray tracing application is fun, as the math behind it is straightforward. Though a dual core CPU is just not fast enough for complex scenes and the code itself code is not very optimized. I might get back to this program with a 32 core CPU...
Features
Multithreaded raytracer
Runs on Windows, Linux and Mac OS X
Nice colorful spheres
Screenshots (click to enlarge)
Orca

What is Orca?
Orca is a small 3D first person shooter (FPS), designed and programmed by Victor Rühle, Tobias Lawrenz and me. We've developed Orca in our spare time as a non-commercial project for learning purposes.
Engine Features
Direct3D Rendering
Terrain Renderer
Bonemodel System
User Modification (mods) Interface
Particle System
TCP/IP Internet Multiplayer support
Get Orca for Windows (2318 KB)
Screenshots (click to enlarge)
Wombat
Wombat is a multiplayer space combat game, I've developed together with Victor Rühle and Tobias Lawrenz. Like Orca, Wombat is a non-commercial project we programmed just for fun.
Features:
Extensible OO design
Multiplatform (Windows/Linux Server and Client)
Low-bandwidth multiplayer capable (i.e. playable via 56k modem)
Designing and implementing a solid and reusable gaming toolkit library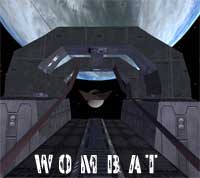 Screenshots (click to enlarge)
Sector based rendering engine and Maya converter
After Orca and Wombat I became interested in "indoor game environments" and the powerful 3D program Maya from Alias|Wavefront. So I wrote a sector based engine and a Maya converter to transform a Maya Scene into my own level file format.
My goals for this project were:
Using DirectX 9
Learning the Maya API
Screenshots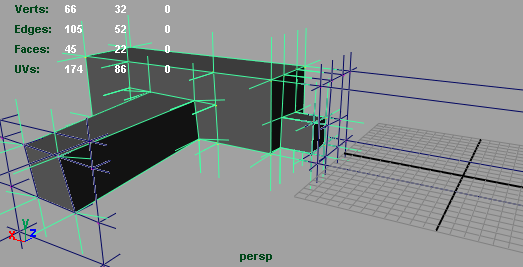 Level editing in Maya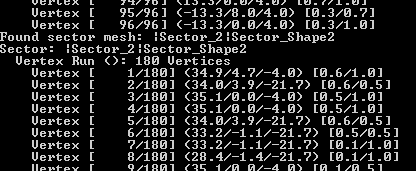 Krautsystem
Inspired by the Lord of the Rings movies, I got interested in crowd systems. Thus the project name: "krautsystem". I've programmed a Java application to simulate groups of "fighting" entities.
My goals for the Krautsystem were:
Watching the behaviour of flocking entities
A solid and extensible 2D Java game engine
Screenshots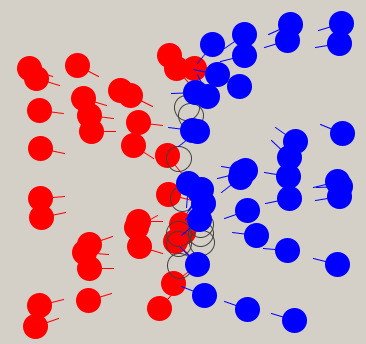 Blue vs. Red without obstacles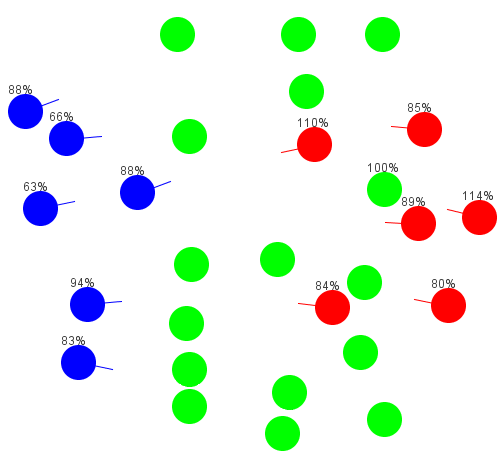 Blue vs. Red in an environment with green obstacles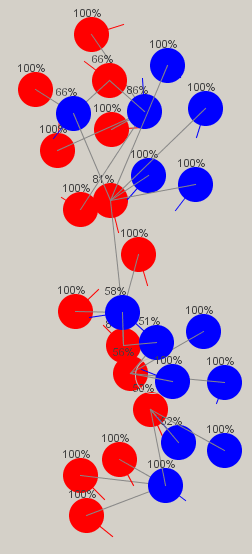 Displaying the enemy network
Army3D
We (Victor, Toby and myself) developed Army3D over the weekend in a small summerhouse, to see how far we can get if we work non-stop as a team.
Our goals for the Army3D project were:
Develop as much as possible in a given time frame
This was our summerhouse (somehow it reminds me of a garage):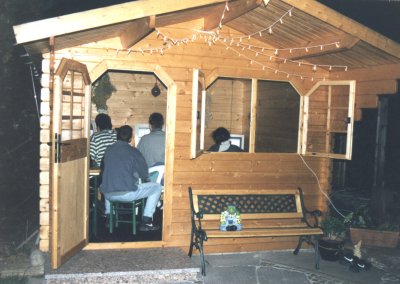 Toby created a reference image (left image) and we tried to achieve the look in game (right image).
Screenshots